Head of Communication and Digital Sales Lotto Sport Italia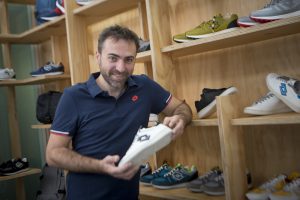 Stefano Taboga è dal 2016 Head of Communication e Digital Sales di Lotto Sport Italia. Stefano si occupa a livello internazionale delle attività di Advertising & Media, PR ed Eventi, Sponsorizzazioni e Digital, lavorando in particolare sull'implementazione della presenza di Lotto sui canali digitali.
 Friulano, laureato in relazioni pubbliche presso l'Università IULM di Milano, ha maturato significative e pluriennali esperienze nell'ambito web e comunicazione in importanti aziende del settore abbigliamento e accessori moda. Prima di arrivare in Lotto, ha lavorato in Luxottica Group dove è stato Global Digital & Omnichannel Director del brand Sunglass Hut. Dal 2008 al 2014 è stato a capo del Digital Marketing di Diesel e, in precedenza, ha maturato esperienze in Genertel (Gruppo Generali), Wolters Kluver e Lycos.